Beef - 100% Grass Fed
Healing Springs Farm raises 100% grass fed, pasture raised Belted Galloway beef cattle. Our goal is to raise hormone-free, steroid-free beef cattle without the high stress of feedlots. Our cattle are never given growth stimulants or sub therapeutic antibiotics. Our cows are pastured raised for their entire life cycle and supplemented with locally grown hay in the winter months. We practice responsible rotational grazing of our pastures for maximum efficiency.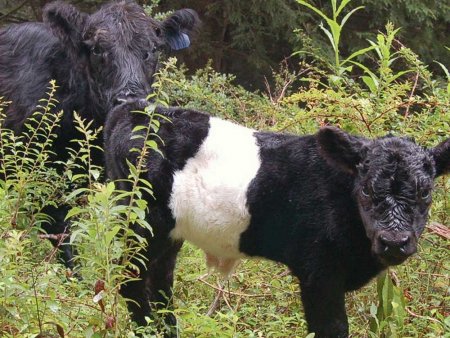 The Belted Galloway Breed (Belties) was developed during the 16th century in the former Galloway district of Scotland. Belted Galloways were first imported to North America in 1939. Belties have a double coat of hair, rather than a layer of back fat most breeds require, that provides warmth in the harsh High County winter months. They are a medium sized cow that adapts well to the terrain in our region, they are great foragers and wonderful mothers that calve easily.
Belted Galloways produce exceptionally lean, flavorful and high-quality meat. Our beef is processed at a local meat processing facility that is USDA inspected and Animal Welfare approved. It is sold vacuum packed, then flash frozen, ready to go into your freezer. We have a selection of cuts available for sale, just ask us!