Skip Navigation
Website Accessibility
Healing Springs Farm & Store
We are proud to be members of the Appalachian Sustainable Agriculture Project (ASAP), the Farmer Veteran Coalition and Blue Ridge Women in Agriculture. Healing Springs Farm is a veteran-owned farm and is part of the Homegrown by Heros program. Our farm products can be found at the High Country Food Hub in Boone and at our Farm Store right here on the property.

Our Farm Store is always open. We operate on the honor system and most purchases can be made anytime. Please call ahead (336) 982-6262 if you would like to purchase meat so someone can meet you to unlock the freezers.

We have recently purchased a large farm just 12 miles away from Healing Springs, which provides us with significantly more acreage on which we can rotationally graze the cattle, pigs, horses and chickens and grow hay for our livestock.
Beef - 100% Grass Fed
Healing Springs Farm raises 100% grass fed, pasture raised Belted Galloway beef cattle. Our goal is to raise hormone-free, steroid-free beef cattle without the high stress of feedlots. Our cattle are never given growth stimulants or sub therapeutic antibiotics. Our cows are pastured raised for their entire life cycle and supplemented with locally grown hay in the winter months. We practice responsible rotational grazing of our pastures for maximum efficiency.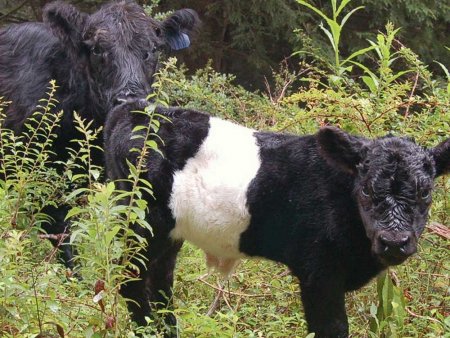 The Belted Galloway Breed (Belties) was developed during the 16th century in the former Galloway district of Scotland. Belted Galloways were first imported to North America in 1939. Belties have a double coat of hair, rather than a layer of back fat most breeds require, that provides warmth in the harsh High County winter months. They are a medium sized cow that adapts well to the terrain in our region, they are great foragers and wonderful mothers that calve easily.
Belted Galloways produce exceptionally lean, flavorful and high-quality meat. Our beef is processed at a local meat processing facility that is USDA inspected and Animal Welfare approved. It is sold vacuum packed, then flash frozen, ready to go into your freezer. We have a selection of cuts available for sale, just ask us!
Pastured Pork
Healing Springs Farm expanded to pastured pork in 2016. We are proud to raise our pigs on pasture, where they get to naturally root around in the woods and relax in the sunshine. They have shelter and shade in case of inclement weather, but they have loads of room to roam about and be pigs!
Our pigs are fed a diet of quality feed supplemented with garden produce, acorns, apples and pumpkins along with milk from a local dairy. Our pigs are not given any growth hormones or antibiotics and are raised as naturally as possible. Just like we do with our cattle, we also practice responsible rotational grazing of our pig pastures for maximum efficiency.
Our pigs are processed at the same USDA approved, Animal Welfare Approved facility as our cattle and packed vacuum sealed and flash frozen. We have a selection of cuts available for sale.
Pastured Chickens
We added chickens to our farm recently and are constantly entertained by their antics! You will find our friendly flock of egg laying hens on the property above our Lodge building at Healing Springs.
Our hens are allowed to free range in the daytime, but get tucked up into their hen house at night to keep them safe from predators. They are fed high quality scratch grains, vegetable scraps without any added hormones or growth products. Nothing beats the taste of farm fresh eggs!
In the summer of 2017, we added meat chickens to our Farm. Our meat chickens are raised entirely on pasture, with shelter from inclement weather, but with the ability to walk around in a safe pasture setting and do all the things that chickens naturally do to forage for bugs and grubs. Like our egg laying hens, our meat chickens are fed a non- GMO diet of scratch grains and crumble.