Skip Navigation
Website Accessibility
Explore the Blue Ridge Mountains
Stay with us and enjoy the New River, hike the many local trails, take a short drive to West Jefferson, Lansing, Boone or Todd. Spend a fun-filled day exploring quaint shops in West Jefferson or enjoy more active pursuits such as hiking, biking, canoeing, kayaking, tubing, fishing, horseback riding, and golfing.

Return to your relaxing cabin at the end of the day to sit on your front porch, relax, and enjoy the end of your day. Marvel at the brightness of the stars lighting the night sky. Our peaceful location offers you easy access to all that the High Country has to offer!

West Jefferson is located in what has been historically referred to as the "lost province" due to its geographical location. We are situated in the northwestern corner of North Carolina with 50 miles of the Blue Ridge Parkway passing through our area.
Things to do near West Jefferson
Arts & Culture
Start with visiting West Jefferson where one will find a growing art culture. The charming downtown features murals painted on the buildings and a variety of independently owned shops, art galleries, antique stores, restaurants and coffee shops, along with a very interesting Museum of Ashe County History.

Make a point to visit both of the Church of the Frescos with work by artist Benjamin Long. These fascinating frescoes are located in the historic St. Mary's Episcopal Church in West Jefferson and Holy Trinity Episcopal Church in Glendale Springs.

For a more artistic approach, take a class at the Florence Thomas Art School located in downtown West Jefferson. Stop in and visit their gallery with items by local artists.
Restaurants
Just 10 miles away in West Jefferson, there are several great restaurants, one of our favorites is New River Brewery, they offer both a "smokehouse" restaurant and a brewery tasting room a few blocks away. The Hotel Tavern, Boondocks Brewery, Plaza del Sol, Smokey Mountain Barbeque, Black Jack's Pub, Sweet and Savory Bakery, Thong Summit, Havana Cafe, and the Loghouse at Smithy's Cafe are all located in West Jefferson as well.

One of our favorite places is located just 10 miles from Healing Springs is the Red Dog Bar & Bistro, one of those little "out of the way" places that offers a rotating seasonal menu.

Another couple of fun eateries located just a few miles North of Healing Springs are Stateline Outpost (right on the NC / VA line) and
Sarah's Place which is located inside the Fox Creek General Store.

Nearby Sparta, NC offers the North Flow Steak House and the Muddy Creek Cafe and Music Hall.
Wineries, Breweries, & Cideries
We are in a great area surrounded by wonderful breweries, cideries and wineries. In nearby West Jefferson, you can visit Boondocks Brewery, New River Brewery and Old Barn Winery. A quick jaunt to Lansing takes you to Molly Chomper Cidery, one of our favorites!

Also nearby are: Thistle Meadows Winery, Banner Elk Winery, Grandfather Vineyard and Winery, Abingdon Vineyard, Jones Von Drehle, Mt. Richie Winery & Ciderworks, Elkin Creek Vineyard, and Raffaldini Vineyards.

A wide variety of breweries are also a short distance away; Appalachian Mountain Brewery, Boonshine Brewery, Blowing Rock Brewery, the Damascus Brewery, Creek Bottom Brewery, Flat Top Brewery, and Skull Camp Brewery are all great places to visit.
Scenic Drives
For scenic drives in the High Country - you have to start with the Blue Ridge Parkway. The Parkway travelers a slow paced and relaxing drive that reveals stunning long-range vistas and close-up views of the rugged mountains and pastoral landscapes of the Appalachian mountains. The Parkway meanders for 469 miles. Take a drive and see what makes our region of western NC so special!

Check out some of the recommended High Country backroads, take a drive to see how many Ashe County Barn Quilts you can spot, or visit some of our charming nearby towns such as West Jefferson, Lansing, or Sparta, there are so many things to see in Ashe County.

A little further afield are Todd, Boone or Blowing Rock, all full of wonderful shops and great restaurants, along with a wealth of activities to please everyone.
Outdoor Recreation
If the outdoors are calling you, a wealth of hiking can be found in our many parks. For great views locally, visit Mount Jefferson State Park and take in the gorgeous vistas. While you can drive to the top of Mt. Jefferson, you can also hike from the bottom or mid-way up the mountain all the way to the top. New River State Park is just a few miles away with a great interpretive center and some nice trails.

We are close to Appalachian Ski Mountain and Sugar Mountain for winter sports or try zip lining or snow tubing at Hawks Nest.

Ashe County has a variety of festivals to interest everyone! Join us for Christmas in July, the OlaBelle Music Festival, the Appalachian Summer Festival, Wayne Henderson Music Festival, MerleFest, Grandfather Mountain Highland Games, West Jefferson Antiques Fair, or the Wooly Worm Festival.

Ashe County is well known for its Christmas trees. We are the largest producer of Christmas trees in the nation. Nothing beats a fresh cut tree in your home for the holidays! We have many nearby "choose and cut" lots. Ashe County Christmas Trees has a list of all the local lots you can visit and find just the right tree!
Creeper Trail
The Virginia Creeper Trail stretches 35 miles from Abingdon Virginia through Damascus Virginia to the NC State Line near Whitetop Virginia. The Virginia Creeper Trail is open to hiking, mountain biking, and horseback riding. The former rail bed passes through the backcountry of Southwest Virginia.

We highly recommend this for a day's adventure! You don't even need to bring your bikes, there are great outfitters in Damascus or in Whitetop who rent bikes and arrange to take you back to your car. We recommend Adventure Damascus, Sundog Outfitter, Shuttle Shack or Creeper Trail Bike Rental. More bike riding can be found along the Railroad Grade Road, a 10-mile stretch that runs between Todd and Fleetwood, River Girl Fishing & Rentals has bike rentals or if you brought your own bikes try the Rocky Knob Mountain Bike Park just outside of Boone.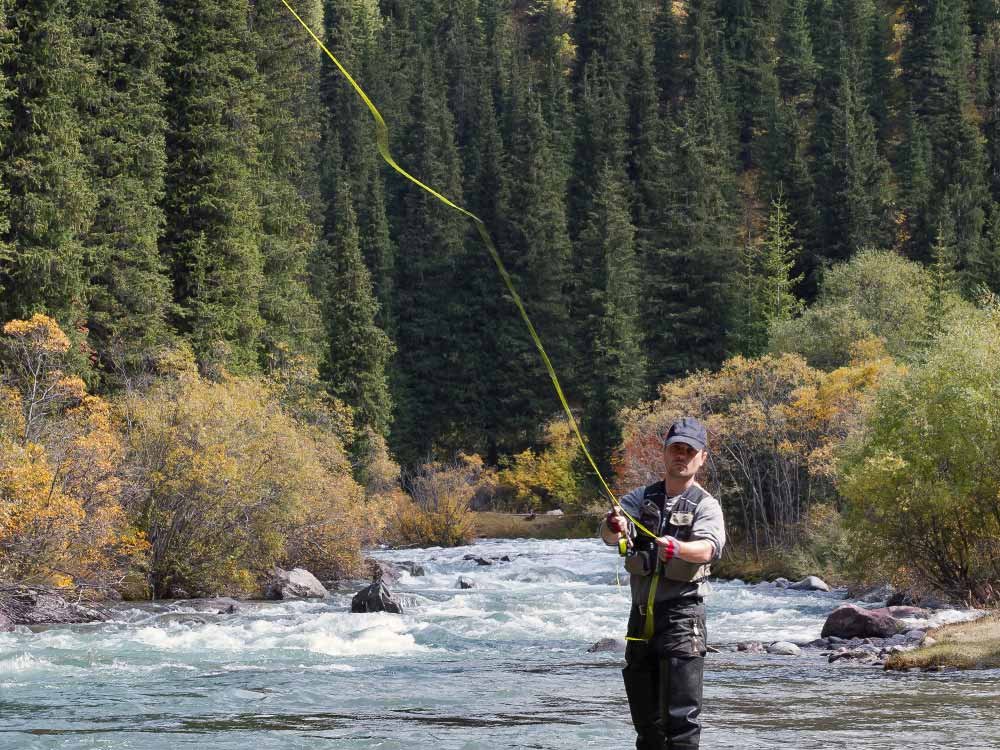 Fly Fishing
Ashe County offers a wealth of Fly Fishing opportunities. March through November is the high fly fishing season on the New River in North Carolina.

You can hook a lot of varieties including smallmouth bass, rainbow trout, brown trout, mountain trout, muskellunge, carp, flathead, and channel catfish.

Nearby, Lansing offers many great fishing places at the State Road 1361 Bridge to Tuckerdale, and the Big Horse Creek, well-known for its amazing fly-fishing opportunities.

Several fly-fishing guide services are available—Rock On Charters, Jeff Wilkins Fly Fishing, and River Girl Fishing all here in the High Country, or try your hand at the Grandfather Trout Farm in Banner Elk.